DERMAMEDICS Cosmeceuticals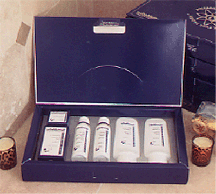 Face-Lift-In-A-Bottle Turns Back The Clock 10 Years In Only 30 days!
You will look and feel younger!
GUARANTEED!
This is Hollywood's Biggest Kept Secret! - But the Secret is out!

DermaMedics Cosmeceuticals is the fastest growing anti-aging skincare manufacturer in the world. DermaMedics offers a microdermabrasion system and other advanced dermagogical skin care systems to the public. DermaMedics skin care treatment products are a holistic healing formulation developed to treat many skin conditions such as acne, scars, stretch marks and wrinkles. These skin care products use a safe and effective means of regenerating skin cells without the use of a machine or harsh chemicals.DermaMedics Study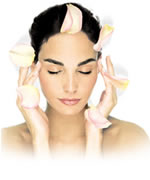 We apologize for the inconvenience, this product is currently not available.
SUMMARY OF RANDOMIZED, BLINDED, PROSPECTIVE AND CONTROLLED CLINICAL STUDIES COMPARING CLASSIC MICRODERMABRASION TECHNIQUES WITH A NEWLY PATENTED "AT HOME" MICRODERMABRASION KIT.



Overview:
MicroDermabrasion is a proven Tool in Dermatology. It has a wonderful track record in improving the condition and appearance of skin. Dr.George Boris and Mr.Richard Fox have developed and patented a new six-phase treatment system for microdermabrasion without the use of a machine. The focus of these ongoing trials is to compare the overall clinical effectiveness of the proven microdermabrasion machine and the new "spa" kit. The pivotal question was whether the new kit would be inferior, equivalent, or superior to the classic machine use.

Selection of patients for the trials:
Over 100 patients were chosen from both genders, wide age variance, and multiple ethnicities. However, because of the proximity of the Culver City Surgical Center, the study was skewed toward persons who are active in the entertainment industry.

Inclusion criteria: generally good health, at least some minor to moderate concern about their skin appearance (usually facial skin).

Exclusion criteria: mild or severe skin blemishes, inability to attend the eleven (11) weeks of treatment and evaluation, allergy to any of the ingredients in the machine (Aluminum) or the six products in the kit (nearly a hundred ingredients), refusal to participate in the before or after treatment biopsies/photography (week one and week eleven).

Materials and Methods:
The study was perspective, randomized, controlled, and blinded. Each patient experienced classic machine microdermabrasion on one side of the face and the "at home" microdermabrasion kit on the other side. The machine uses high-speed aluminum particles to hit the skin much like "sand blasting" in an industrial setting. It uses an aluminum-based compound that is of health concern to many patients. The "at home" microdermabrasion/resurfacing kit uses a patented magnesium oxide crystal (aluminum free) suspended in an elegant cleansing cream base. It is applied by the fingers to the skin in a circular motion to exfoliate the skin in a more controlled way than the machine operation. The user stops short of moderate pain in this process. Before beginning the study, a single base line skin biopsy and photos were performed (week number 1). At week number 5, the patient's skin was evaluated by a blinded evaluator.

Evaluations were performed both subjectively and objectively (histology).
The blinded "split face" tests were continued for a full 10 weeks. At week number eleven (11), the patients' skin were evaluated (again by a blinded evaluator) for appearance and biopsies were performed on both sides of the face. The so-called "after" photography was performed at week number eleven as well.

Biopsies were stained with both the Trichrome stain (to observe the highly colored collagen) and elastin skin (to observe the less dramatic but still observable elastin distribution.)

Results and discussion:Again, all photographic evaluations and histology readings were performed in a blinded fashion.

Examining both the before and after photography as well as the multiple biopsies, both treatments showed dramatic improvement in skin appearance, collagen formation, and elastin distribution. Both treatment modalities are effective when the patient fulfills their obligation to attend all ten treatment sessions and when the machine or "at home" kit directions are followed correctly.

Conclusion:
All patients had bilateral improvement of skin, as compared with baseline, as evaluated through our blinded subjective evaluation scale and pre and post photographs. Histologically however, the kit showed results that were superior to the classic machine use. Elastin and collagen were significantly increased for both treatments, with DermaMedics being more so. Interestingly, collagen deposition was thickest at the epidermal/dermal junction where it is most important in relation to skin wrinkles. No complications reported for either therapy. The use of the kit is dramatically more cost effective than the ten visits to a professional office, thus making the dramatic improvements available to a larger segment of the population. There are many busy professionals that could afford the ten office visits but could not afford time away from work or obligations. Studies in progress are determining more specifically and quantitatively the improvement of fibroblast bundle building which is thought to reduce wrinkles.
Peter Driscoll MD.


Phase I: Dermal Cleanser
Dubbed by researchers as "...the gentlest cleansing agent in the world", this step utilizes lavender as an anti-inflammatory and is laurel sulfate free.

With little possibility of irritation or side effects, this vital step is necessary to prepare the skin for microdermabrasion; while offering a soothing, deep cleansing.

Recommended for all skin types

Super mild facial cleansing

Will not strip skin of its natural oils

Prepares skin for microdermabrasion (6oz.)


Phase II: Skin Resurfacing
Treatment: Microdermabrasion is made from natural hydroxy acids (extracted from fruits and sugar), and pure, high-grade magnesium crystals. OTC Monographed, (FDA) protectants (dimethicone and glycerin), Algae, Arnica, and Comfrey extracts are all used to prevent any inflammation.

Aluminum free

Removes flaky, dead skin cells

Produces fresh, young skin

Promotes collagen and elastin (6oz.)


Phase III: Multi-Action Toner
The worlds most powerful free radical scavenger, super oxide dismutase, contains vitamins in high penetrating liposome form. Additionally, it contains soothing, marine-based anti-inflammatories such as kelp, algae, arnica, juniper, bladderwrack, and chamomile extracts.

Continues exfoliation

Extra cleansing, removes oil residue

Restores natural Ph balance

Prepares skin to accept nutrients (4oz.)


Phase IV: Vitamin C - Collagen Gel
The five forms of Vitamin C allow for ultra-deep penetration in the lower levels of the aging skin. The hyper powerful serum seeks out and binds to potentially dangerous molecules created by the sun, environment, and makeup. Additional ingredients include noni juice, aloe vera, green tea Ext., kava kava Ext., seaweed, cucumber, arnica Ext., gingo biloba Ext., marshmallow leaves, tangerine oil, chamomile Ext., and marine collagen for direct fortification of fibroblasts. It also contains an OTC (FDA) monographed protectant to aid healing.

5 forms of vitamin C (10%)

Fights free radicals that cause aging

Cellular protector/melanin inhibitor

Decreases premature aging

Promotes new cell growth (1oz)


Phase V: SPF-25; Day Moisturizing Cream
SPF Day Moisturizer protects newly formed skin cells brought out by microdermabrasion. It contains panthenol, a powerful nutrient for the epidermis, as well as Sodium PCA, a highly effective humectant. Extracts of aloe vera, comfrey and calendula will ensure calming of stressed skin. A high concentration of allantoin contributes to the healing process.

UVA/UVB block

Protects and hydrates new skin cells

Prevents moisture loss/seals in vitamin C

All-natural anti-oxidants (4oz.)


Phase VI: PM Rejuvenating Cream
Our PM rejuvenating cream has been clinically formulated with very potent anti-oxidants & emdash; including liposome vitamins A, C, and E, copper peptides, thiotic acid (alpha lipoic acid), Co-enzyme Q10, beta carotene, nutrient MSM, royal jelly (high panthenol), vitamin E, selenium peptide, collagen, and elastin.

Diminishes fine lines

Vitamin enriched complex (A, B, C, & E)

Protects cell membranes against free radicals

All-natural anti-oxidants (.5oz)
The Learning Center
DermaMedics Microdermabrasion Day Spa System vs. machine-based microdermabrasion
What is "machine-based" microdermabrasion?
Machine-based microdermabrasion is a skin rejuvenation procedure; wherein a machine is used to apply aluminum crystals. Suspect with regard to safety, these crystals are used to remove the top layer of dead, aged skin cells, employing an aggressive sucking device.
What is the "DermaMedics System"?
DermaMedics System uses a patented process that manufactures a pure, high-grade, magnesium crystal. Suspended in a clinically tested medium, this all natural approach is safely and easily applied to the skin surface. Clinical trials have proven that using DermaMedics "Spa System" stimulates Collagen levels; contributing to the production of fresh, young skin.
Is machine-based microdermabrasion safe?
Usually. all instruments that come in contact with the skin must be well maintained and cleaned after each treatment; the crystals must be sterile. In this regard, many technicians are inadequately trained. In order to receive safe, effective results, those seeking treatments should check the technicians qualifications. Even then, clients run a risk of respiratory ailments from the airborne particles released during treatments. Other reported side affects have been damaged capillaries, resulting in spider veins and bruising.
How does the DermaMedics System measure up regarding safety?
Without a doubt, the DermaMedics System is vastly superior in this regard. DermaMedics features a patented, high-grade, sterile magnesium crystal (OTC, Monographed, FDA protectant), along with natural anti-inflammatories. Suspended in a clinically tested medium,
The DermaMedics System is gently applied in a non-invasive, at-home procedure -- making microdermabrasion easier, safer, and more convenient than ever
What is the objective of having a series of either machine-based treatments, or the DermaMedics System?
Microdermabrasion treatments are intended to regenerate the epidermal cell structure of the skin, increasing its elasticity and collagen generation; causing the epidermis to grow back thicker, clearer, and smoother.
The DermaMedics System has definitely been shown to achieve this goal -- both on the face and other parts of the body.What areas of the body can be treated with machine-based microdermabrasion vs. the DermaMedics System"?Both methods of microdermabrasion are used on the face and body
Is machine-based microdermabrasion painful?Some patients report experiencing levels of discomfort from the procedure -- especially in areas of the face, neck, or any overly sensitive parts of the body. The discomfort can sometimes be reduced by lessening the amount of pressure being applied with the vacuum

Is the DermaMedics system painful?
The client experiences practically no discomfort. In contrast to physician-based treatments, DermaMedics lets the individual manually control the pressure and depth of the microdermabrasion treatment to a level which can be uniquely tailored to his or her preference. Whether aesthetician administered, or applied by oneself at home, the DermaMedics system will give you amazing results with little or no discomfort.How long does a typical machine-based treatment take?Physician-based treatments usually take about 30-45 minutes to complete.
How long does a typical the DermaMedics system treatment take?
The DermaMedics system treatments take approximately 5-10 minutes, depending on the depth of dermabrasion desired. It consists of rubbing the affected area of skin in an upward, circular motion, using around 10-15 strokes.
What types and colors of skin can the DermaMedics system be used on?
Clinical studies have shown that the DermaMedics system benefits all skin types from all ages. Persons with environmentally damaged skin that had fine lines, wrinkles, stretch marks, ingrown hairs, acne scars, aging spots, sun damage, pigmentation and sun spots, have all had dramatic improvement. Other test participants with acne, enlarged pores, blackheads, whiteheads and blemishes, have also improved using the DermaMedics system. Other skin conditions such as actinic keratosis and chickenpox scars can also be treated.
How often should a patient receive machine-based microdermabrasion?
Patients usually require 7 to 14 treatments, approximately 7 to 10 days apart, in order to see results from the procedure. Acne and other deep scarring usually require a minimum of 14 treatments before appreciable benefits can be seen. Maximum benefits are only achieved through an ongoing process of maintenance treatments.How often should a patient receive the DermaMedics System?The DermaMedics system is recommended to be used every other day for seven days. One week is then taken off to allow the skin to regenerate. This process is then repeated to maximize results in an ongoing health and beauty regimen.
How soon will a patient see results from machine-based microdermabrasion vs. the DermaMedics system?
The results of both systems are usually progressive. The patient should start seeing significant results after the third treatment with major improvement visible after the fifth or sixth procedure. With the DermaMedics system", many patients have noted visible improvement in their appearance after just the first treatment.
Who should not receive a machine-based microdermabrasion or the DermaMedics system?
Anyone considering microdermabrasion should be informed of the following. Consult your personal physician if any of these conditions exist in your case.

Active Acne, undiagnosed skin lesions, Herpes Simplex 1, Shingles
Eczema and Seborrheic Dermatitis

Oral Blood Thinner Usage

Active, Brittle Diabetes

Accutane Usage (must have discontinued usage one year prior to treatment)

Rosacea

Raised Warts or Moles

Skin Cancer and Auto Immune Disease

Telangiectasias

Tattoos
Testimonials

Dr. Boris, I used the cream and oil faithfully for over 2 months on my face every morning. What a difference! I can see lots of facial spots have faded, especially a cherry mole I had on the side of my nose. It has been so obvious that other people noticed that it's gone. I really appreciate this trial of creams you gave me, and I'm sure it will do the same for others. Can't thank you enough."
-Dora Valenjil
Dear DermaMedics, I love the scrub! It makes my skin soft and glowing. Some of my fine lines are diminishing." - Virginia Falner, Ph.D
I was very happy with the process, and I feel my skin is much softer and toned. Now my skin absorbs my daily skin products better. I am much healthier looking now. My makeup sits much nicer then before I began the process. I think I will continue using DermaMedics for the rest of my life." -Faye Hezghian

---